So why Iowa? It's a question we get often from executives around the world. For such an innovative company of software architects, artificial intelligence engineers, and data SMEs, how and why do we do it from Iowa? The answer is quite strategic, and I'll go over four of the key reasons we choose to grow Kingland from Iowa.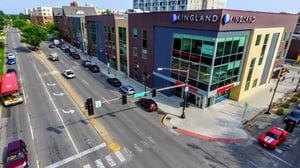 Talent. The first reason is people - our most valuable asset. From Iowa, we are able to attract a well-trained, highly educated, and dynamic workforce from colleges and universities in the Midwest. We partner closely with Iowa State – a top engineering and business school of about 37,000 students and nearly 2,000 faculty in Ames. O

ur data science and software lab is located adjacent to the university, which has allowed us to foster an innovative working relationship with academia and students that we pioneered over 15 years ago. Additionally, m

any of our employees grew up in smaller communities or even on farms and we find the "Midwest work ethic" is a very real dynamic. Our employees work hard and finish what they start because it's the only way they know. Competition for talent is increasing as Facebook, Google, Apple, IBM, and Microsoft all launched locations in the state and others like Boeing, Caterpillar, and other Fortune 100 companies recruit talent from Iowa. As we continue to grow, Kingland is becoming one of the top destinations in the Midwest for engineers, analysts, data scientists, and other top talent to grow their career.


Culture. Many of the great companies in the world have been able to create and foster a differentiating culture by locating in smaller communities. We often look at the world famous Mayo Clinic in Rochester, Minnesota for inspiration. Mayo is regarded as one of the top healthcare providers in the world and they built that culture in a community of less than 100,000 people. If you've not experienced Mayo, their culture is strong; they operate differently, which helps drive their industry leadership. At Kingland, we relentlessly focus on a culture of continuous improvement, forward-looking innovation, and exceptional client success. These types of cultural tenets would be very hard to cultivate consistently with offices scattered around the globe. Our clients look to us to regularly solve very challenging and new problems with technology and data, and we believe we can effectively nurture this client and solution focused culture from our offices in Iowa.





Location

. In many ways, our location in the middle of the United Sates is also an advantage. Iowa is fairly equidistant from the West Coast or East Coast where many of our clients are headquartered. Now, with many large enterprises adding critical centers in Dallas, Chicago, Salt Lake City, Kansas City, and other locations, we're even closer. From Iowa we can arrive at our clients' offices within 2 to 3 hours to meet face to face and collaborate on tough problems. Operating from Iowa, our teams are able to focus much more on innovation and challenging solutions for our clients with few distractions and modern working environments. Also, we are able to recognize some cost efficiencies in facilities, infrastructure, and resources in Iowa, all of which allows us to invest more in the company, our software, and offer competitive pricing to our clients.


Way of Life. Just last month U.S. News & World Report ranked

Iowa No. 1 in its Best States Rankings, driven from top 5 rankings in infrastructure, education, healthcare, and opportunity. While it's nice to have a major news outlet recognize us (using data I might add), for those of us at Kingland, we've known this a long time. Many of us grew up in the state, have family nearby, are actively involved in our communities, and may even take some time each year to go back and work on a farm. Our commutes are short. For me personally, my commute takes as long as it takes you to read this article - less than five minutes. We work incredibly hard, but we also stay very involved with those things that matter most and have the time and resources here to do that. All of these factors translate to tangible business benefits too. Employees enjoy flexibility in their work and value the community and family-focused culture, all of which leads to higher engagement and higher retention.

Our turnover is less than most companies like us and when you factor this in with the Talent, Culture, and Location points above, I think we're building something very special here at Kingland

. People often hear me say,

I don't have a job, I have a way of life,

which I'm incredibly fortunate to believe.
For those of you that know us at Kingland, I hope this list feels familiar to the many discussions we've had over the years. For those that didn't know the "why" behind Iowa, maybe its time for a visit? We'll welcome you anytime…and if you come at the right time of year, we might even take you farming.